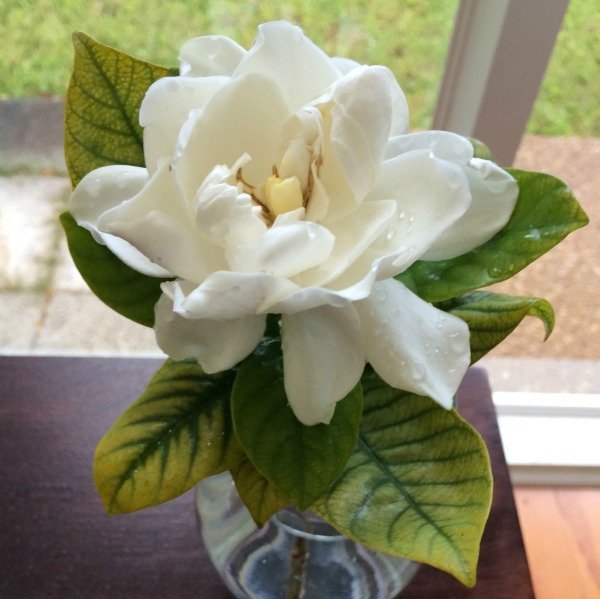 The other day, as my assistant was leaving my office, she called to me from outside.
I followed the sound of her voice and saw her leaning over a gardenia bush in my garden. "Would you like me to pick this for you?" she asked, as she gestured towards a perfectly-formed, white gardenia.
"Sure," I replied.
Using both hands, she snapped the stem of the flower to separate it from the bush. She then graciously handed this delicate creation to me – as if to say, without actually saying it, "Here is some exquisite-ness!"
And as busy as I was, at that moment that she called me out of the office, it was as if the flower in my hand compelled me to PAUSE — even to hit the STOP button for a moment, and pay attention to its splendor.
And I did.
And as I looked at nature's child, and looked again, and felt transported by her sweet, pleasant fragrance – it was as if she was smiling at me.
I turned my head away for a moment … when I looked back at her again, she was still smiling at me.
That made me happy.
For the rest of that afternoon (and over the next day) I periodically paid attention to this beautiful gardenia. And she was still smiling at me.
Which made me feel happy. (Who doesn't love to be smiled at.)
It also made me feel beautiful. (Beauty smiling at beauty.)
And it inspired me to honor and appreciate myself in the same way that I'd been honoring and appreciating this exquisite-ness, for almost two days.
Now to you -
Do you feel happy?
Do you feel beautiful?
Are you inspired to honor and appreciate yourself?
Need a little help?
Here's an exercise for everyone:

1.  Choose something in your environment that makes you feel happy.
(For you it might be a pet, or the birds chirping outside, or it could be something that you've incorporated into your environment – perhaps you favorite music.)

2.  Focus on whatever you've picked that makes you happy.

3.  Feel the happiness within yourself.
(Initially it might feel like a warm glow. Just flow with it.)

4.  Now say the following sentence out loud (fill in the blank):

I am beautiful because ___________________________.

5.  Write down one reason why you are an inspiration (to yourself, or someone else):

I am an inspiration to _____________________ because _____________________.
Let's top off today's lovely sharing with an affirmation (write your name in the blank):
I _____________________ am happy, beautiful and inspiring.
xo
P.S. What makes you feel happy, beautiful and inspired?

P.P.S. My new, gorgeous revamped website will be released soon. Here's a sneak peak at a new photo on the site.