In two days it will be Mother's Day.
So today — in the parenting segment that I regularly do on KHON2 television — the interview focused on Mother's Day.
We chatted about how, when your child gives you a gift on Mother's Day, this can boost their self-esteem.
Ron Mizutani, the morning news anchor, shared such a clever teaser to the segment. It went something like this:
"When your keiki give a gift to you, they get a gift as well." ["Keiki" is the Hawaiian word for "child."]
So true.  [More about that, below.]
Which also means that this topic applies to gift-giving in general — not only on Mother's Day.
Here is a summary of the 3 self-esteem builders that I shared with news anchor, Diane Ako (below left.) [The photos on the right are explained at the end of this post.]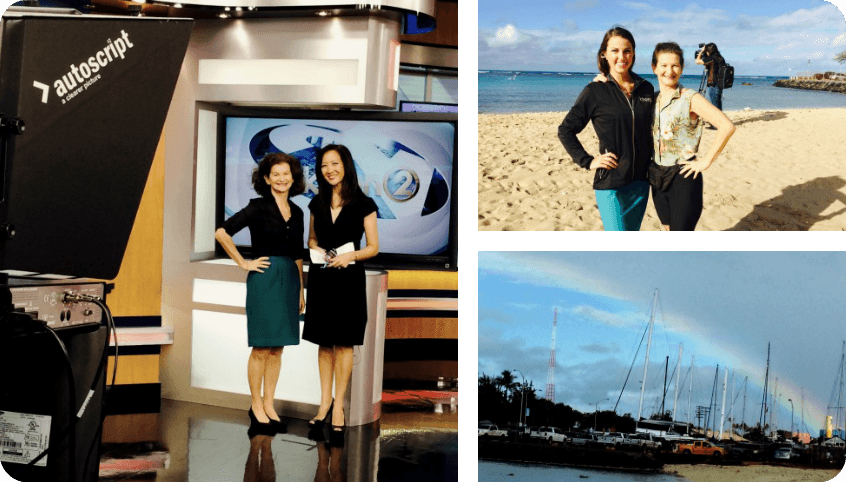 Self-esteem builder#1:  
Focus on your child's positive qualities, more than the gift itself.
This means praise your children for who they are, not for what they do.
Diane shared a gift that Olivia, her 7-year-old, had made for her (the cutest little purse, with a sachet sack inside, filled with delightfully fragrant, potpourri).
I emphasized the importance of praising Olivia for her thoughtfulness and that she has great taste, rather than simply thanking her for the beautiful gift.
Self-esteem builder #2: 
Tell your kids that they are the best gift you could ever get.
If families can't afford to buy gifts for mom, the kids can get creative and do things that have no cost.
Tell me that mom wouldn't doesn't love having breakfast brought to her in bed, or the house cleaned for her!
And…
Most importantly, tell your kids: "When it comes to gifts, you're the best ever."
Self-esteem builder #3: 
Praise your child for his or her creativity.
Keiki can be involved in giving gifts on Mother's Day [or for any occasion] from quite a young age.  I chatted about a 3-year-old and her dad getting a gift for her mom, which involved the daughter being very creative.
. . .
PS. Something to think about: When you thank someone for a gift that they gave you, do you focus more on the gift itself, or on the qualities (such as thoughtfulness or creativity) of the gift-giver?
PPS. After being all made-up (false-eyelashes and all…) to appear on television today, I did my interview, & then headed to the beach for a run.  Guess who I bumped into?
KHON2 News​ weather anchor, Kelly Simek, taping on the beach (see photo above: top right.)
A little while later, I saw the most exquisite rainbow (see photo above: bottom right.)