80% of Americans do not get the minimum amount of exercise recommended by US government health officials.
Yikes.
This isn't exactly "breaking news," of course.
We all know that exercising is important — and that we ought to be doing more of it.
But "knowledge" doesn't always translate into "action."
In fact, for many people, there's a BIG gap between understanding that something is urgently necessary — and actually taking action. Why the gap? Ooh. So many reasons. Ultimately, though, it all simmers down to one core issue: unresolved emotions, clogged up inside like gunk in a pipe, making it difficult for you to act in your own best interests.
The solution? Resolve those emotions — unclog the emotional pipes, so to speak — and then taking action becomes joyful. Easier said than done, of course! That's why there are psychologists and coaches like me. ;)
So, let's say you're working on unclogging those pathways.
You're starting to make progress, exercising a little more often, feeling the benefits… but some days, you still struggle to get motivated. Or maybe you're in a steady exercise groove (yeah!) but you're craving something to kick things up a notch, or bring some more variety and excitement into your workout routine.
In either scenario…
These three tools can help:
1. Walk with purpose.
The Striiv pedometer tracks your walking habits and then creates customized games and challenges based on your fitness level. You can even enter into a friendly walk-a-thon competition with friends! Neat gadget — but that's just the beginning.
Here's the really cool part: the more steps you take, the more money the makers of Striiv donate to charity. Striiv steppers are currently helping to bring clean drinking water to schools in developing regions, preserving the rainforest, and ending Polio.
Fitness + philanthropy = a very sexy combination.
2. Stickk together.
Stickk.com is an online community filled with people working on all kinds of lifestyle changes and goals — quitting smoking, being more punctual, writing books, and exercising, to name a few.
You have to sign a Commitment Contract to get started. (Putting your intentions in writing = always a powerful move!). After that, you can invite friends and family to monitor your progress and cheer you along.
Sticck also has an optional "set the stakes" feature. You put some money "on the line" — $10, $200, $500, any amount makes sense for you — to help you become more emotionally invested in your goal. Make progress, reach your goal, and you get your money back. Quit on your goal and your money is gone. Sound harsh? Maybe — but it's also highly effective. Stickk's data shows that "financial stakes increase your chances of success by up to 3x." (Side note: Stickkers have completed 708,493 workouts to date! Nice!).
3. Bring the gym to you.
One of the biggest barriers to working out is "lack of time." Life can get busy, for sure. So why not bring the workout to you?
You can follow along with high-definition video classes through Daily Burn, YogaGlo, FitnessBlender, or Barre3, to name just a few of the streaming-video class platforms. (There are dozens of platforms out there — and most offer some kind of "free trial" period so that you can give it a whirl, at no cost.)
Want to start at a gentler pace? Try the freebie video classes from Curvy Yoga.
If you're worried you won't do your workout — even if you don't have to leave home — here's a tip: schedule a date with a friend or family member ("3pm on Thursday!") to do your at-home workout together. Most research suggests that when you combine "fitness" with "a scheduled friend-date," you're less likely to flake out. Plus: sweating with a buddy could put you in an even better mood.
Last but not least…
It may not be "high tech" or "ground-breaking," but there's just no substitute for a real, live human being who cares about your wellbeing, checks in with you, and who is trained to help you to work through the emotional baggage that may be holding you back from reaching your goals — fitness-related or otherwise.
Everyone needs a "coach" at some point or another. The greater your goal, often, the more support you need to break out of inertia, gain momentum, and succeed.
A couple of my favorite life coaches (colleagues that I love and can thoroughly vouch for): Gemma Stone and Susan Hyatt, and of course… me! (Tooting my own horn? Totally. But I love my work and I'd be so honored to help you make progress. :)
Whatever your biggest "barrier" to exercise may be… know this:
You can resolve it.
You can re-structure your life so that you DO have time to take care of your body.
You are capable of making those kinds of changes — and so many others.
You are powerful.
You can do it.
Get out there and work up a beautiful sweat, today — I'll be jogging right along with you!
. . .
Note: This post is intended to provide information, education and inspiration. It is not a substitute for professional or psychological advice, diagnosis, or treatment. Always talk to your doctor before beginning a new exercise plan and about any questions you may have about your health and well-being. Take good care of yourself, always.
PS. Just in case today's blog post didn't provide quuuuite enough motivation to fit a workout into your day… here's one more blast of encouragement and love.
Brand new audio recording = just added to my Shop today!
It's called the "Get Motivated To Exercise" Meditation.
23 minutes of audio to help take you from "don't wanna" to "can't wait!"
Own it here: http://drsuzannegelb.com/meditations/#exercise
Mahalo! (that's Hawaiian for "Thank You")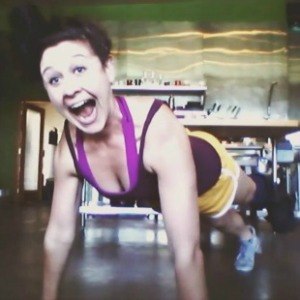 PPS. Alexandra Franzen, my amazing writing coach, collaborated with me on writing the script for the "Get Motivated To Exercise" Meditation.
Here's Alex (on the right) obviously uber-motivated to exercise…
Even with a broken leg!  
Can you spot her cast? [clue: left leg.]
There's only one word to describe Alex's brand of motivation —
Inspiring!