"My daughter just won't cooperate."
"The tantrums have gotten out of control."
"He promises to do his chores, but then he doesn't."
"She's having trouble making friends at her new high school."
"I'm trying everything I can think of… but I'm at my wit's end!"
Sound familiar? If you're a parent, chances are you've made at least one of those statements during the past year—or possibly something similar.Dr. Suzanne Gelb, a psychologist and life coach who has worked with parents and families for over 3 decades combined, and an attorney who has worked in the area of family law, understands parents' frustrations.
Year after year, she has heard stories about tough spots, melt-downs, tantrums, and just about every hair-pulling situation imaginable.
Three decades — and more than a few transformational success stories — into her career, Dr. Gelb has consolidated her knowledge into a new guidebook for parents:
IT STARTS WITH YOU.
This book doesn't outline a "revolutionary" or "ground-breaking" parenting philosophy. Rather, just the opposite. It's a refreshingly simple guidebook on how to raise great kids by setting a great example that one's kids naturally want to follow. As Dr. Gelb explains, parents set the tone for their household. If one's child is acting out, first, it's wise to look towards oneself.
IT STARTS WITH YOU urges parents to get back to basics — starting with their words, their actions, their role modeling; the messages that they knowingly (and unknowingly) expose they child to, every day.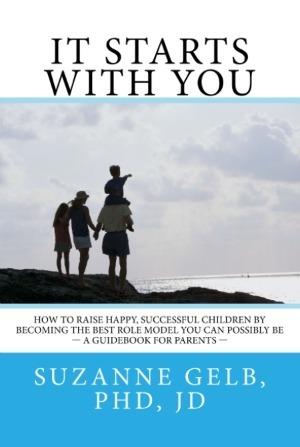 In this book, parents can find:
—Relatable stories about parents and kids
—Tips on how to set age-appropriate rules and consequences for kids of all ages, including teenagers
—Worksheets to organize and track family chores and responsibilities
—Guidelines that can help with dozens of tricky, sometimes uncomfortable scenarios (from public tantrums to curfew-breaking to texting at the dinner table to navigating major life events, like illness or divorce)
—Inspiration to strengthen one's mind, body, and life—forgiving one's own parents, releasing the past, becoming a stronger, more positive role model for one's kids: a family leader who's worthy of admiration and respect
Readers have described this book as "game-changing" and "incredibly effective," and the message rippling through the pages of IT STARTS WITH YOU is one of hope and empowerment:
It is never too late to become the person, parent, and role model that one want to be—and that one's child needs and deserves.
Your child is looking to you and counting on you.
It all starts with you.
Paperback. 205 pages. FREE Shipping on orders;over $25 from Amazon.
Please review the policies and product disclaimerbelow before making a purchase.
Digital. Print Length: 142 pages. Instantly downloadable. Can be read on a tablet, phone, or computer.
Praise for IT STARTS WITH YOU
From readers:
"I always thought it was my kids' fault for not cooperating. After reading this book, I realized that if I wanted them to cooperate, I needed to change how I was parenting. That's exactly what happened (I made some changes, and then they did too). So remarkably simple… so incredibly effective. Wow!" 

"I've read a lot of parenting books, but this one is totally unique. Dr. Gelb has captured the essence of effective parenting in this gem of a book and taken the mystery (and the struggle) out of raising, happy, fun-loving, well-adjusted kids. Beautifully written, practical, easy-to-read. Finally, peace at home… thanks to this book!
"The stories that Dr. Gelb shares at the beginning of the chapters in the book about the parents she's worked with—and their successes—are so inspiring to a parent like me who is pulling her hair out, trying to get my kids to listen. The self-reflection exercises throughout the book are game-changers. I went from feeling frustrated and helpless, to empowered and pleased with the changes I see in my kids (and my whole family) as I implement the tools and solutions offered in this book."
From kids:
"Mommy read this book and now we have all our rules on a chart on the fridge. I know what I am supposed to do and I don't forget things. Also, we don't yell as much. It's awesome!"
"Daddy doesn't get mad and yell at everyone, and slam doors like he used to. Mommy says it's because he read your parenting book. I am so happy, thank you."
"My parents never used to listen to anything I had to say. It was always, "Because I said so." I used to cry myself to sleep, and not want to get up in the mornings. Lately [after they read this book] they've been really listening to me when I have something to say. For the first time ever, I feel heard in my family, and like I belong, and that I want to be part of this family. It's so different at home now… so much better."
Paperback. 205 pages. FREE Shipping on orders over $25 from Amazon.
Please review the policies and product disclaimerbelow before making a purchase.
Digital. Print Length: 142 pages. Instantly downloadable. Can be read on a tablet, phone, or computer.
Praise for Dr. Suzanne Gelb, TV appearances and writing
"Dr. Gelb's warmth and calm nature make her extremely approachable. She is a gifted expert on a wide range of parenting topics, no matter what your child's age. She's inspiring, insightful and always empowering and provides you with the tools you need to become the best parent you can be."
—Ron Mizutani, Anchor, Reporter, KHON2 TV News


"As a fairly new mother, I am constantly learning about the many challenges, yet extraordinary blessings, parents endure. I always look forward to the practical and insightful advice Dr. Gelb offers.
Everything she shares is so inspiring, not only to myself, but to other parents as well. She has a wealth of knowledge and makes learning about parenting, family life and relationships informative, engaging and fun."
—Kanoe Gibson, Weather Anchor, Reporter, KHON2 TV News


"I have interviewed Dr. Gelb on a number of occasions relating primarily to issues of child-rearing. Her insight includes common sense, compassion and wisdom.If you have children, Dr. Gelb's a good person to have in your Rolodex.[I'm dating myself, aren't I?]"
—Kirk Matthews, Anchor, Reporter, KHON2 TV News
"For the past 14+ years, Dr. Suzanne Gelb has contributed thought-provoking, problem-solving, inspired articles to every issue of Hawaii Parent. Her articles have enhanced the credibility & success of our magazine."
—Charlie Harrington, Publisher, Hawaii Parent Magazine


I just read and shared your beautiful article!
"It is never, ever too late to become the person, parent, and role model that you want to be."
Love, Love, Love! You are so precious and your wisdom helps so many of us!
—Dr. Susan Mathison
"Dr. Gelb has a gentle spirit that instantly makes you feel like you've come home. The depth of her wisdom is undeniable, her curiosity is insatiable and her love is palpable. These qualities make her the perfect guide for life.

In the pages of the Life Guides you will find practical and proven processes to support you in living your great life.

Whether it's heart-centered wisdom on navigating the dating world, love-based strategies for becoming a parent, or reaching your ideal weight through kindness, Dr. Gelb's Life Guides are gifts to be treasured."
—Dr. Gemma Stone
IT STARTS WITH YOU, Featured on Television
Dr. Gelb had the honor of celebrating the "birthday" of her new parenting book on Hawaii's KHON2 News. Here she is with news anchor, Diane Ako (below right). Such a thrill for Dr. Gelb to release it into the world—on the air! Since then, as you see in the photo above, the cover has had a new birth, too!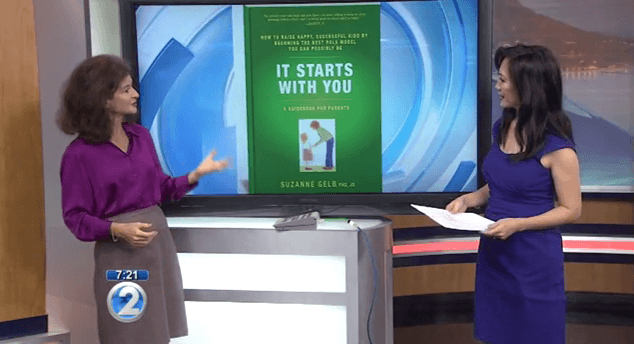 Parent Counseling
To learn more about Dr. Gelb's approach to counseling, go here.
Paperback. 205 pages. FREE Shipping on orders over $25 from Amazon.
Please review the policies and product disclaimer below before making a purchase.
Digital. Print Length: 142 pages. Instantly downloadable. Can be read on a tablet, phone, or computer.
Other Books by Dr. Gelb
The Life Guide On How to Get Ready to Be a Parent and Be the Best Mom Or Dad You Can Possibly Be
The Life Guide On How to Get Your Kids to Cooperate and Help Them Become the Best Grown-Ups They Can Be
The Life Guide On Helping Your Teen Make Healthy Choices About Dating and Sex
The Life Guide On How to Reach Your Ideal Weight Through Kindness, Not Craziness
The Life Guide On How to Rekindle That Spark and Create the Relationship and Sex Life That You Want
The Life Guide On How to Care for Yourself When You're a Caregiver for Somebody Else
The Life Guide On How to Deal With People Who Drive You Absolutely Nuts
The Life Guide On How to Find Work That You Love When You're Stuck in a Job That You Hate
The Life Guide On How to Forgive the One Who Hurt You Most of All
The Life Guide On How to Navigate Being Single and Savor Your Dating Adventure
The Life Guide On Aging with Grace, Strength and Self-Love
Welcome Home: Release Addiction and Return to Love
To interview Dr. Gelb about this book or set up a media appearance, click here.
http://drsuzannegelb.com/contact-press-media/
. . .
And here's a brief mention about another book by Dr. Gelb… on another topic:
"We found that our addictions and compulsions subsided. Like a true miracle, we felt at peace and at home within our own lives"—excerpted from Welcome Home—Release Addictions & Return to Love. 25th Anniversary Edition.
To learn more, click here.
. . .
Policies
For readers who might be wondering, "Should I buy a product from this website? Will I enjoy it?" consider exploring some of the most popular articles I've authored for this site — and my articles that have been published in many other places.
If the articles are relatable and inspiring, a reader may like the products offered on this site (audio meditations, Life Guides, books, e-courses).
If the articles don't resonate, the products on this site may not be suited.
Please purchase mindfully because there are no refunds for any products.
Thank you.
Products Disclaimer
All products on this site are for informational purposes only. They are not a substitute for professional or psychological advice, diagnosis, or treatment. Consult a qualified health provider with questions about health & wellness and prior to engaging in any personal growth program or technique.
Copyright © 2019 Dr. Suzanne Gelb. All Rights Reserved.