Life can be challenging, frustrating, even scary, at times.
That's why I wrote The Life Guides: a series of 11 digital guidebooks on some of life's trickiest challenges.
You can purchase a guide for yourself, for a loved one, or get the whole collection.
An important toolkit has arrived! Instantly downloadable!
Aging | Anger | Caregiving | Career | Dating | Forgiveness | Parenting 1 | Parenting 2 | Parenting 3 | Relationships / Intimacy | Weight-Loss | Own All The Guides | Praise for The Life Guides
Praise for The Life Guides:
"Dr. Gelb has a gentle spirit that instantly makes you feel like you've come home. The depth of her wisdom is undeniable, her curiosity is insatiable and her love is palpable. These qualities make her the perfect guide for life. In the pages of the Life Guides you will find practical and proven processes to support you in living your great life. Whether it's heart-centered wisdom on navigating the dating world, love-based strategies for becoming a parent, or reaching your ideal weight through kindness, Dr. Gelb's Life Guides are gifts to be treasured."
—Dr. Gemma Stone, Psychologist, Mentor, Author

"I still remember sitting with you, Suzanne, on the most incredibly gorgeous day in Hawaii, talking about work, words, books, and making a difference in the world. The notion for The Life Guides bubbled up in your mind and you said, 'I'm going to do this. It will be my big project for next year.'
I remember thinking to myself, "You want to produce 12 new guidebooks in 1 year? Along with everything else you've got going on? Whoa. Uh. Okkkay…" But you pulled together a team, wrote your heart out, poured all of your insights into the pages, and you made it happen.
Because that's who you are — and that's the kind of person you inspire others to be, too. Creative. Prolific. Generous.
It's an honor to collaborate with you — and these Life Guides are gems. Timeless wisdom, lovingly packaged, covering challenges that just about every human being will contend with sooner or later. Bravo & Mahalo!"
—Alexandra Franzen, Author, Columnist and Communication Expert

"Learning how to love yourself and treat yourself kindly — even when your life, career, body, and relationships aren't 'totally perfect' — is one of the hardest things to do. Dr. Suzanne Gelb breaks down the art of self-love into practical steps. No woo-woo vagueness. Just easy-to-follow exercises pulled from her 28-year career in the field. If you're looking for practicality and effectiveness, these Life Guides are a steal of a deal."
—Susan Hyatt, Master Certified Life Coach, Published Author, WebTV Host, International Speaker
"You know when people say, "Just visualize your job interviewer in her underwear… and no one will be able to tell how nervous you are?" Unfortunately, that's not quite true. As a former Human Resources consultant, I can tell you: you need to be clear, confident and self-assured at the hiring table, or you won't get the opportunity you want. Your next step? Dr. Suzanne Gelb's brilliant Life Guide on How To Find Work That You Love. (While you're at it, considering purchasing all eleven Life Guides. They're all gems!) You can have the career you want, but first, you have to learn how to manage your emotions so that you can make a terrific impression. Bravo to Dr. Gelb for creating these incredibly valuable — and affordable — guidebooks. I wish I could have given a copy to everyone I ever interviewed."
—Susan Harrow, Media Coach & Marketing Strategist, Founder of PR Secrets, Bestselling Author of Sell Yourself Without Selling Your Soul

"Let's be honest: there's a lot of crappy dating advice out there. But Dr. Gelb's Life Guide is a cut above the rest. This is sincere, heart-centered, healthy wisdom that WILL help singles find their special someone."
—Annika Martins, Host of The Sacred Podcast

"As a career & business strategist, I know that finding great work isn't always easy. It takes passion and patience. It's a marathon — not a sprint! Having a terrific resume (or business plan) is just part of the process. You also need to get your mindset in a positive mode — and get your emotions working for you, instead of against you. Dr. Gelb's Life Guide on "How to Find Work That You Love" is an indispensable road map to what is — for many — a grueling & challenging journey. Use this guide, and you'll have the tools that you need to move forward with confidence and grace."
—Ellen Fondiler, Career and Business Strategist, Co-creater of The Miracle Worker, with Gala Darling
"I enjoyed your Caregivers Guide. It is appealing, well-organized and has great information."
—Dr. Mary Clark, Psychologist, Marriage and Family Therapist
Praise for Dr. Gelb:

"Wow! This is fantastic stuff. You're clearly incredible at what you do, and I'm so thrilled to share your advice with our audience!"
—Adrian Granzella Larssen, Editor-in-Chief, The Muse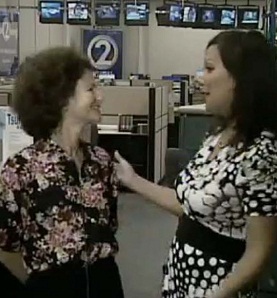 "Dr. Gelb has the powerful combination of expertise, first-rate communication skills, as well as professionalism, and consistently delivers the highest quality information."
—Olena Heu, Award Winning Journalist, Anchor, Reporter, KHON2 TV News

"I just read and shared your beautiful article! It is never, ever too late to become the person, parent, and role model that you want to be." Love, Love, Love! You are so precious and your wisdom helps so many of us!"
—Dr. Susan Mathison, Triple Board-Certified Physician, Business Owner, Community Leader, Mom

"I love the new content you have been writing and found the "Do you love your blog more than me?" posting personally useful, as I struggled with that a lot over the last two years when I was working from home."
—Chris Barrett, Web Developer and Programmer

"@DrSuzanneGelb Thanks for the great interview [for the lead story on the evening news] on such short notice!"
—
Alex Cerball
, Reporter, KHON2 TV News