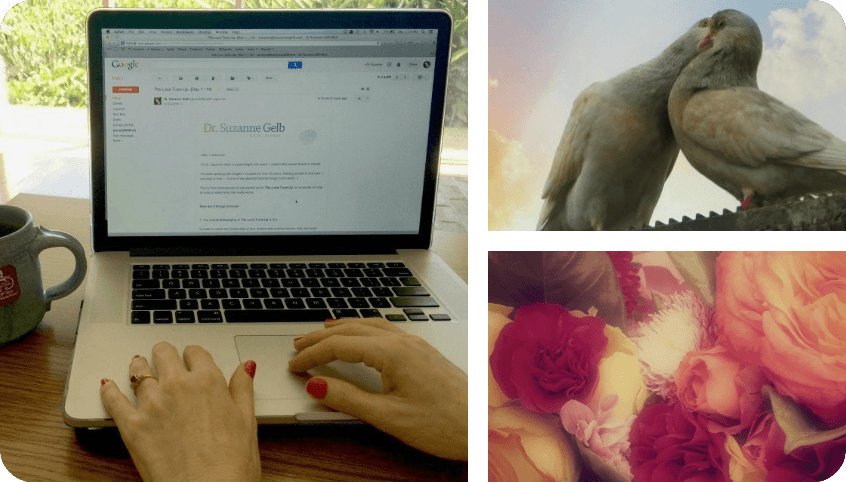 If you're struggling to meet the right person—or if your current relationship feels rocky and strained—don't look outward. Look inward. True love starts with you.
You set the tone for all of the relationships in your life.
When you love and respect yourself deeply, you tend to form relationships with people who love and respect you, too.
Makes sense. Totally true. But… not always easy to do.
If you're having a tough time "loving" yourself—or even "liking" yourself, sometimes—The Love Tune-Up was made for you.
WHO NEEDS THE LOVE TUNE-UP?
The short answer is: anybody who wants to enjoy happier, healthier relationships. Relationships that flow beautifully. Relationships that just… work!
If you find yourself saying things like…
"Why can't I meet someone amazing? I feel like I'm never going to meet The One…"
"What happened to my relationship? It used to be sexy and exciting, but now? Ugh…"
"Why does my partner drive me so crazy? I try to keep my cool, but he / she just pushes all of my buttons…"
"Relationships are just so HARD! I wish I could feel happy and relaxed and… in love, you know?"
… it might be time for a Love Tune-Up.
Whether you are single (and not looking for a partner), single (and definitely looking for a partner), or part of a couple, there's never a "bad time" to tune-up & upgrade the quality of your relationships. (Especially your relationship with yourself.)
There's always room for more love.
HOW DOES IT WORK?
—The Love Tune-Up is a 14-day online course. You have access to all the love lessons when you sign up — so you can go at your own pace. Ideally, complete one short love lesson each day.
—There's a written version and an audio version of each lesson. You can read or listen — or both! Whatever you prefer. Here's a sample from one of the audio lessons:
—You can start The Love Tune-Up right when you sign up, or at any time. You have access to the materials forever.
—You don't need any fancy equipment to take this online course. Just a computer or another digital device with Internet access, and you're all set!
ABOUT THE CREATOR
Hello! If you're brand new to my online world, I'm Dr. Suzanne Gelb—the creator of The Love Tune-Up, and several other products.
I believe that loving yourself, loving others, and being loved should be simple—and yet, for many people, it can feel so complicated.
That's why I created this online course: to make things less complicated. And hopefully, to make it easier for you to receive the love you deserve. From yourself. And from others.
The Love Tune-Up reflects 29 years of work as a psychologist, life coach and family law attorney, combined. I've poured my heart—and expertise—into this clear, simple program.
I hope it is uplifting and powerful for you.
TECH SUPPORT
—It's unlikely to happen, but if you run into any technical snafus with this online course, you can reach out to me & my team at: support@drsuzannegelb.com.
ADDITIONAL SUPPORT
—The Love Tune-Up is intended to help you treat yourself in a kinder, more loving manner—so that you can naturally create healthier relationships with others. Of course, it is not a substitute for professional life coaching. (Please read the "official" disclaimer & legal stuff, here.)
If coaching is something you want to explore, head over here.
PRAISE

"We loved all 14 lessons. Packed with information & tips. It took our relationship to the next level and improved our lives, individually."
—Cheryl & Tim (married, 3 years)

"This saved our relationship and was just what we needed to shift from considering splitting up to being a success story. Thank you, thank you."
—Joe & Maxine (dating for 1 year)

"So great to have these lessons coming to our inbox for 14 days. That gave us time to digest and savor each lesson and put the helpful tips into action. Before this tune-up, our relationship was about a 5. Now we'd rate it as a 9!"
—John & Lori (married, 6 years)

"Such a creative, helpful way to not only help us get back on track & out of our stagnant rut, but to discover a whole new, healthy way of relating — with respect, compromise and attentiveness. We feel like we're dating again… and loving it!"
—Chuck & Sam (married, 10 years)